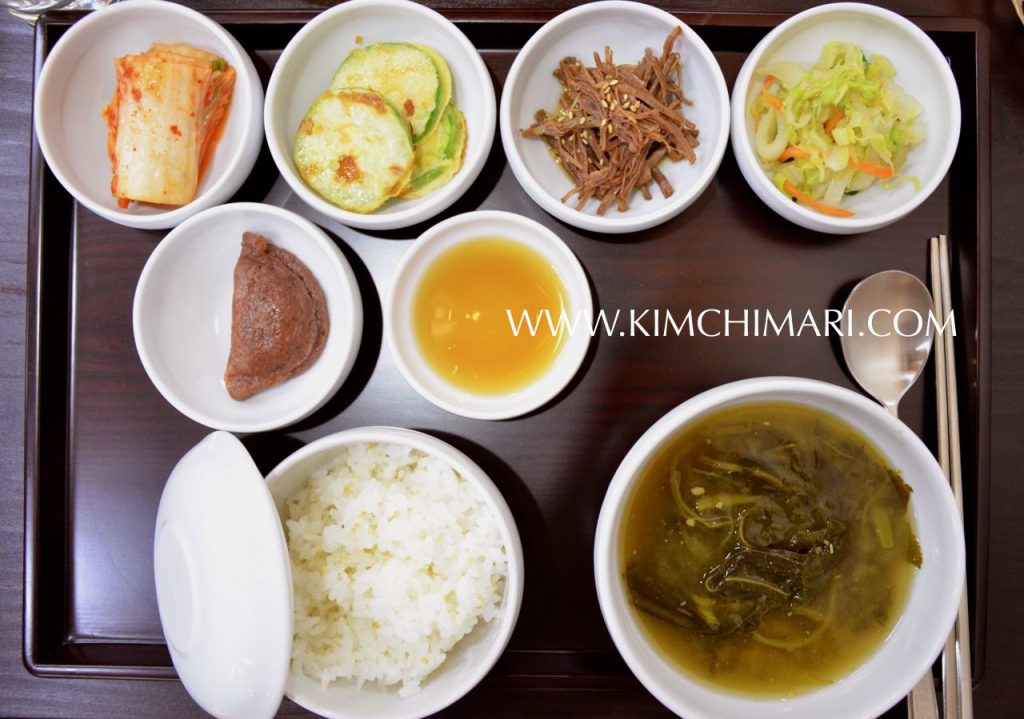 Nothing fancy or multi-colored, nothing grilled or fried but there is something so comforting and deliciously pleasing about a properly prepared authentic Korean breakfast.  In my opinion, this is what traditional Korean food tastes are all about. Every now and then I have complained about how Korean food has changed over the years and have lost a lot of the authentic traditional flavors in exchange for more instant flavors of hot spicy and sugary sweetness. Don't get me wrong, I love sweet flavors but not when it's just overpoweringly sweet. Much like everything else in life these days, the deeper, more subtle delicate flavors have been sacrificed for more quick, attention grabbing, stronger flavors  that can instantly give one a false idea that the food tastes good.
The Zucchini Jeon was slightly scrunchy yet soft with the zucchini tasting almost sweet. The Jangorim was great too with just the right amount of saltiness and sweetness, not overpowering the meat flavor. The Baechoo Namul was my favorite – the seasoning was light enough for the sweet cabbage flavor to come through and then with the added sesame oil and seeds, there was a wonderful note of nuttiness at the end. I plan to work on the recipe of this dish and post sometime soon. After eating a very satisfying meal, I ended the meal with the mini sorghum rice dumpling (수수부꾸미 susubukkumi) with a surprise stuffing of pine nuts and dried jujubes.
This wonderful breakfast was part of our Bed & Breakfast stay at Gurume Resort (구름에 리조트) in Gyeongsangbuk-do Andong (경상북도 안동). Gurume(구름에) which means "into the clouds" is a resort that just opened this July and it consists of 7 different historical Korean homes (고택 Gotaek) with their ages ranging from 200-400 years old. Each home has been relocated from their original location to the resort as vacation villas for people to experience first hand how Korean scholars lived centuries ago.
My memorable trip to the past was only possible because I reconnected with one of my best friend from high school and it turns out we have lot of common interests. It was almost eerie to discover how similar our passions were – especially about farming and also about Korean traditional food and culture. I am so happy that I now have such a friend who is just as unusual as I am.. haha..
At her recommendation, I reserved the villa – imagining a trip just like this. The villas look and feel completely like homes from the old old days but with ultra modern interiors. Our villa was called Parkseon Jung (박선정) and it was built in the early 1600's!! It contains 2 bedrooms and a middle hall between rooms that is totally open in the front and back. The picture below shows the backside window.
Another amazing feature are these glass doors that were built inside traditional wooden doors, coated with Korean rice paper (한지 Hanji). These glass doors even lock with a remote control!
In the morning, I woke up to this beautiful and peaceful view right outside our window!
Feeling the breeze through the windows and hearing the wind chime ringing..
I was taken to a totally different time and place. I was totally free from all the hustle and bustle of a large city like Seoul…
If you ever visit Korea, I hope you will get to visit and stay at a Korean traditional home and experience the same peace and tranquility that I experienced here.
Here are some additional snapshots from the resort.
Hope you enjoyed a trip to the past!
Take care,❤️
XOXO
JinJoo