Best Korean pancakes from savory to sweet, featuring classic Korean flavors and ingredients like kimchi, gochujang, chive, and buckwheat. Enjoy them for breakfast, as side dishes to any meals, or as snacks.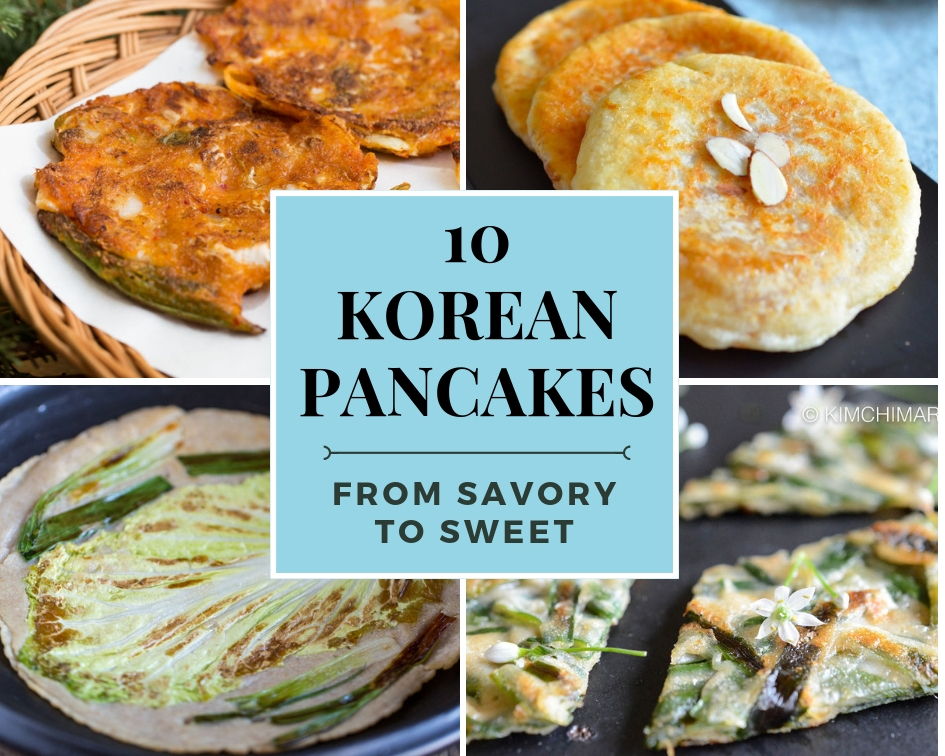 10 Best Korean pancakes for you to enjoy any time of the day. These are some of my favorites to whip up as banchan, as snacks or appetizer or even as something to enjoy with Korean makgeolli. When you need just one more banchan for dinner, try making one of the savory pancakes below.
I've added the time and quick list of ingredients so you can quickly choose which one to make. First, a little note about the names. What Koreans know as "jeon 전", "buchimgae 부침개" or "tteok 떡" are commonly translated as "pancake" in English, although each word has some differences.
Jeon means anything that is coated in flour and egg then pan-fried in oil. Buchimgae refers to what can be called as fritters; they usually are mixed batters that are spread out like pancakes and pan-fried in oil. Tteok usually refers to rice cakes but in some instances, although a few, they are used to refer to similar dishes to Buchimgae such as in Bindaetteok and Jangtteok.
In a typical Korean pancake recipe, the main ingredient is generously spotlighted to allow the flavor to take center stage. For example, there's the kimchi pancake, chive pancake, mung bean pancake, and gochujang pancake. You get the idea! These pancakes are served as side dishes in a meal, and are also popular as snacks, usually with makgeolli.
These Korean pancakes are unlike the classic Western breakfast pancake that you might have in mind. Many of them are savory but I also have a couple of sweet recipes that will change up your usual pancake routine. Try them all from the collection below!!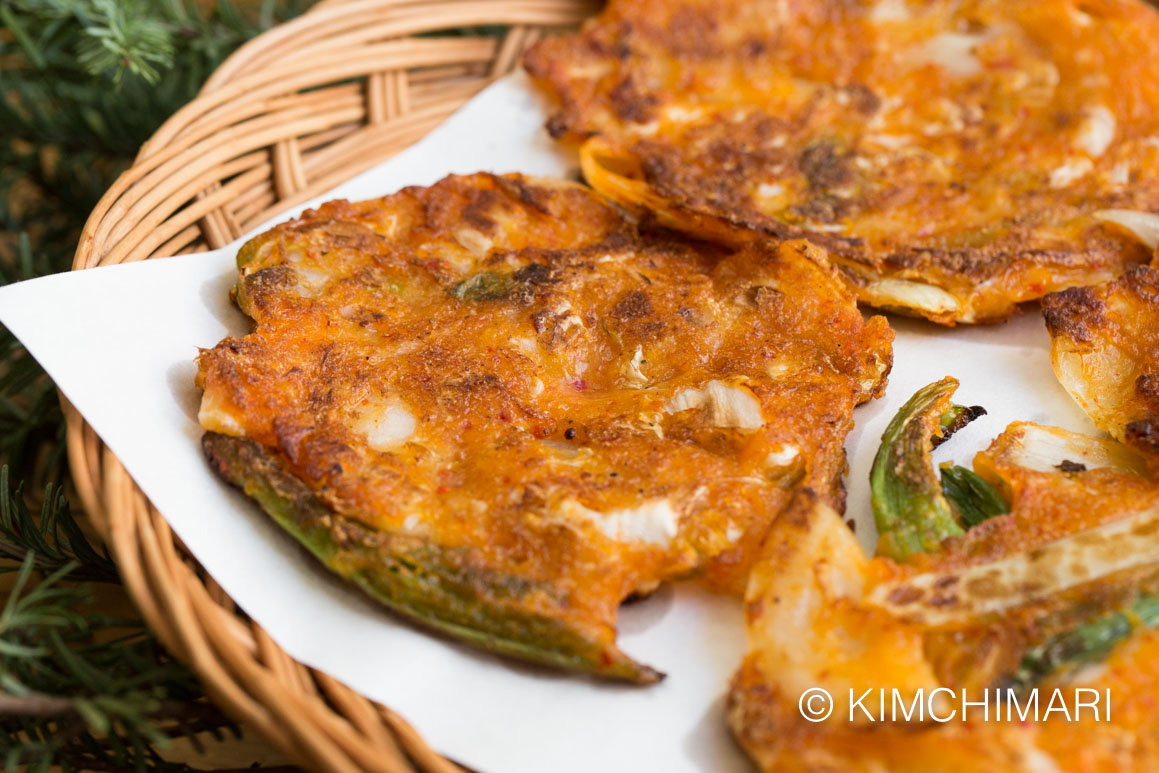 Main ingredients: Cabbage kimchi, yellow onion, flour, kimchi liquid, gochujang
Prep Time: 10 minutes
Cook Time: 10 minutes
Do you have some old kimchi or kimchi that's too sour lying around? Waste not! Make kimchi pancake and enjoy it as a side dish or as a snack with makgeolli, a combination Koreans like to have on rainy days. Kimchi fans, don't miss the recipe.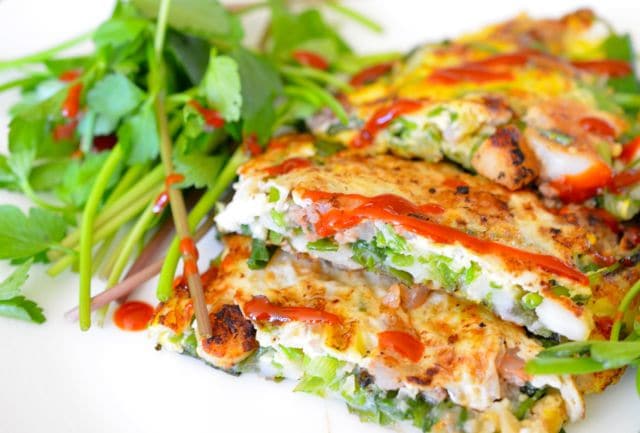 Main ingredients: Scallion, seafood, flour, egg, ground beef
Prep Time: 25 minutes
Cook Time: 15 minutes
Inspired by the special pancake that comes from the region of Dongrae/Dongnae 동래 in Busan, this pancake is made by cooking the ingredients in several generous layers instead of having them all in one batter. The result is much more flavorful, with less batter and more seafood and scallions. Get the recipe now!
Main ingredients: Korean buckwheat flour, napa cabbage, green onions
Prep Time: 15 minutes
Cook Time: 10 minutes
Buckwheat pancake is a specialty in the area of Bongpyeong, Gangwon province, the site of the 2018 Winter Olympics and where the majority of Korean buckwheat is produced. Not only is buckwheat low in calories and high in vitamins and minerals, it is also naturally gluten-free. Keep this recipe handy for your gluten-free and vegan friends.
Main ingredients: Garlic chives, flour, egg
Prep Time: 10  minutes
Cook Time: 10 minutes
This is a treat for chive lovers. The key to making the best Korean chive pancake is the batter to chive ratio. The chives should never be swimming in the batter but just be barely covered. It's a good lesson in making the best out of a few simple ingredients. Get a big dose of chive goodness in this recipe.
Main ingredients: Korean zucchini, flour, tempura mix
Prep Time: 10 minutes
Cook Time: 10 minutes
A great way to make use of the abundance of zucchini in season, this versatile pancake can be served as a party appetizer, a side dish to any meal, and even as an afternoon snack. Kids will love it too, and it's a great way to get them to eat more vegetables. This recipe is sure to be a crowd favorite.
Main ingredients: Mung beans, ripe kimchi, pork belly, green onions
Prep Time: 30 minutes (for soaking)
Cook Time: 1 hour
Koreans like to eat mung bean pancake during the holidays. The great thing is it can be made ahead of time and quickly reheated to serve. Although modernized and simplified, this recipe still preserves the taste and texture of traditional authentic North Korean style bindaetteok and is based on my sisters' trusty recipes.
Main ingredients: Potato, onion, flour
Prep Time: 20 minutes
Cook Time: 30 minutes
Slightly crispy on the outside and pillow-soft on the inside, this easy pancake makes for a great snack and is a testament to the delicious magic that can come out of the humble potato. To get the ideal texture, it's best to use starchy potatoes like the regular russet. This recipe is a real keeper.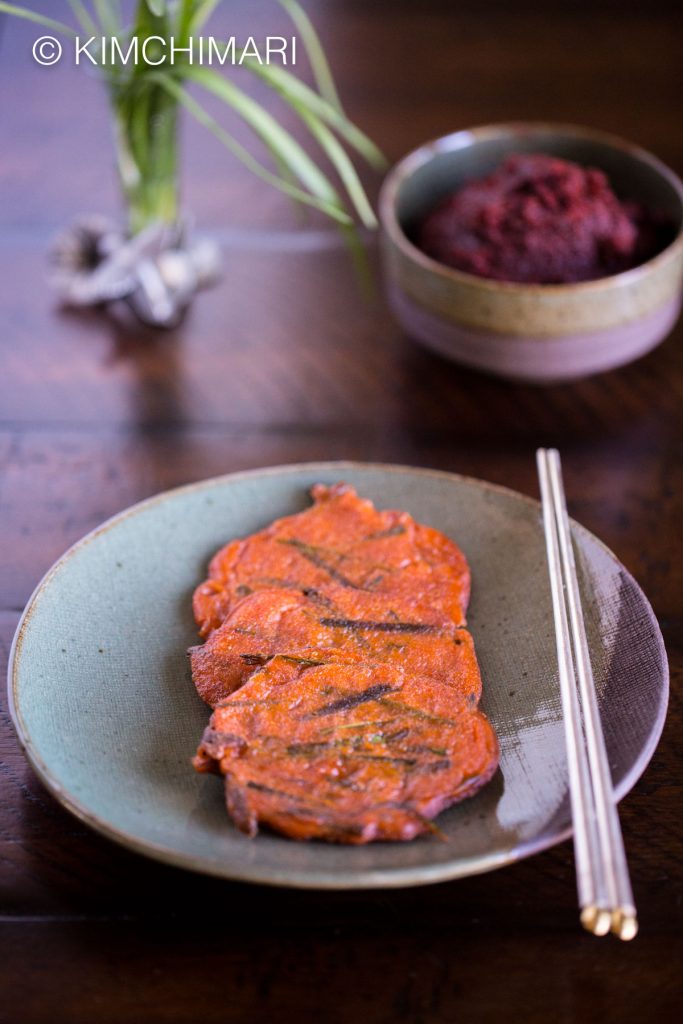 Main ingredients: Flour, gochujang, chives
Prep Time: 5 minutes
Cook Time: 10 minutes
This is a very traditional Korean pancake that goes back over 300 years! The simplicity of the recipe allows the deep flavors of gochujang, the much-loved Korean red pepper paste, to really shine. So if you need another excuse to enjoy gochujang, try this easy and quick recipe.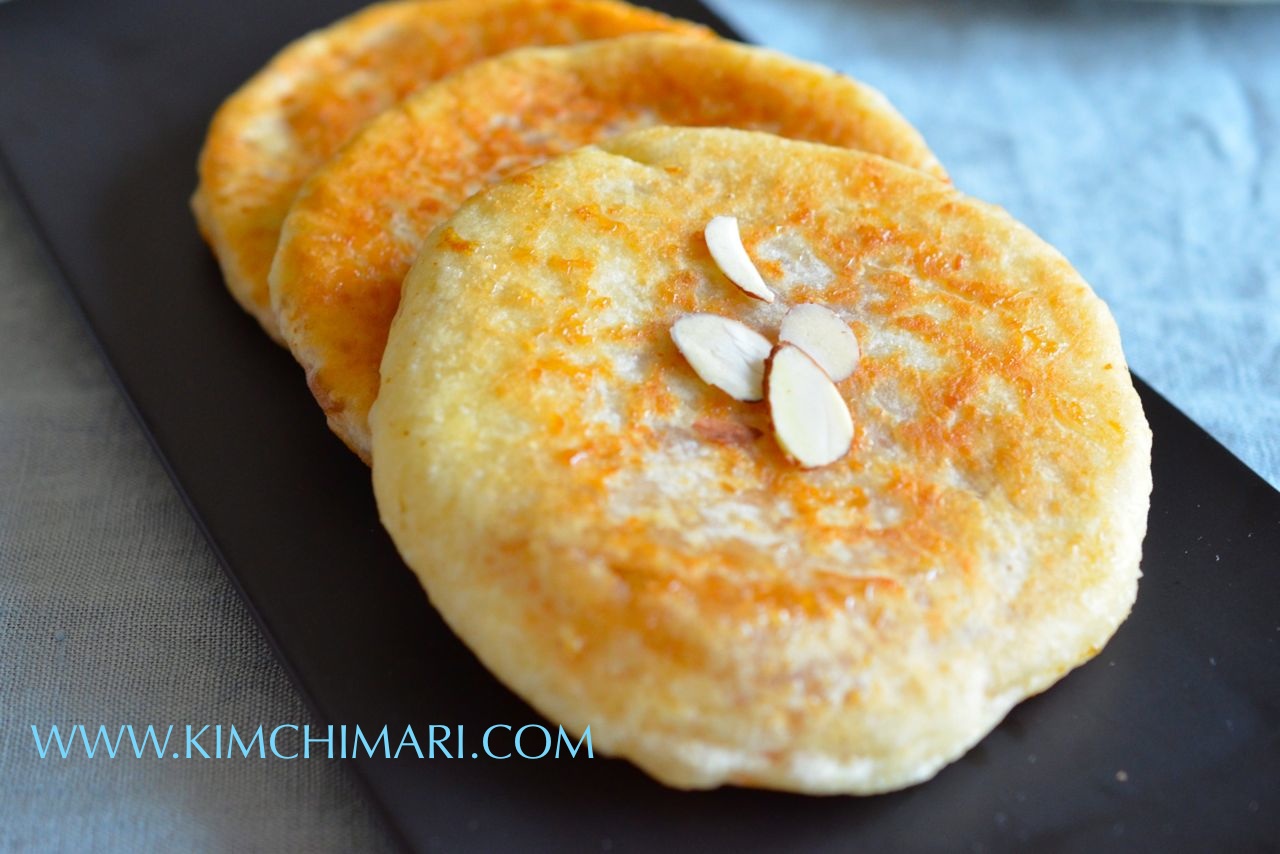 Main ingredients: Flour, sweet rice flour, cinnamon, walnuts
Prep Time: 10 minutes
Resting Time: 3 hours
Cook Time: 20 minutes
The moment you bite into this pancake, the hot cinnamony syrup will ooze into your mouth. Hotteok has a chewy dough with fried crispness on the outside and a sweet filling with bits of nuttiness inside. No wonder this is a favorite Korean childhood snack. Change up your pancake routine with this recipe.
Main ingredients: Sweet rice flour, edible flowers, honey
Prep Time: 10 minutes
Cook Time: 10 minutes
The origins of these pretty delicacies go all the way back to the Koryo Dynasty, and for something fit for royalty, they are surprisingly easy to make. Koreans make them with different fresh edible flowers depending on the season, and you can do the same. Enjoy this lovely recipe!
These 10 Korean pancakes are sure to please everyone in the family. Hope you will have a lot of fun cooking and sharing them!
XOXO ❤️
JinJoo
Let's stay connected. FOLLOW ME on FACEBOOK, PINTEREST, and INSTAGRAM. You can also join my FACEBOOK GROUP where we share everything about Korean food, including cooking tips, with other Korean food enthusiasts just like you!