Jeonju Hanok Village DAY 1
Jeonju, Korea is the capital city of North Jeolla Province. Jeolla province has history dating back to pre-historic times but Jeonju came to existence as a city in 900 AD as part of Later Baekjae era. When I think of Jeonju, I think of Jeonju Bibimbap. That is probably the most famous dish that comes from Jeonju. But recently Jeonju boasts a lot more good eats than just bibimbap and has even been named as UNESCO City of Gastronomy in 2012.
The Jeonju Hanok Village postcard you see above is a recycled paper postcard that I found at a store run by young Korean entreprenuers who turn their photography into living art such as this one. It becomes living art when the little seeds embedded in this paper postcard will grow when you soak in water. What a brilliant idea!! More about this in my next post..Go to Paper Garden site for more info.
I just came back from Korea from a 10 day visit to see family and friends. I also had a chance to follow my sister and niece to this great city. I would have loved to stay longer but we only had about 24 hours so this is what we were able to do..
LUNCH at the famous 왱이콩나물국밥 Waengi Kongnamul Gukbap (88 Dongmun-gil, Wansan-gu, Jeonju-si, Jeollabuk-do) restaurant which serves just one menu item – Beansprout Soup and Rice (Kongnamul Gukbap). You know it must be good if that's the only item they have!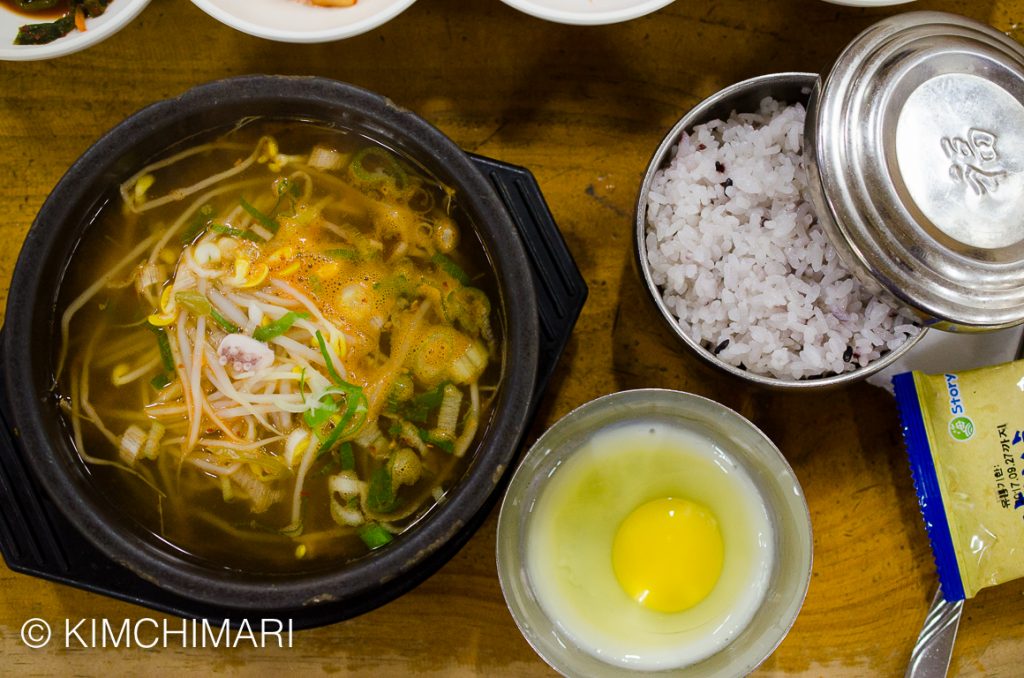 They also have special instructions for eating the poached egg and gim (roasted seaweed). You are supposed to break up the gim and mix it with the egg and eat it. If you look lost, one of the server Ajumas will mix it for you. 🙂 This is their appetizer and it was surprisingly good.
And then on to the best part! The soup came piping hot and was a bit on the spicy side for me but I am a wimp when it comes to spicy so… The broth was a clearing both for the nose and the belly. One of those 'feeling it all the way down to your tummy' kind of soup. Tummy warming delicious! And your stuffy nose would be all cleared up by the end of the meal! FYI, the banchans (side dishes) are self service if you want more.
After lunch, we walked around Hanok Village (한옥마을 Hanok Maeul) which is a village that is comprised of many historic homes that are hundreds of years old. There are also many fun shops and restaurants that are unique to Jeonju. An unexpected fun scene was seeing many young people walking around in rented Korean traditional dress – Hanbok (한복) and taking many selfies. I even caught one couple where the boy and the girl cross dressed!! FYI, the light blue coat is a girl in a man's dress. The person with red hat and red skirt is actually a boy!! HAHAHA!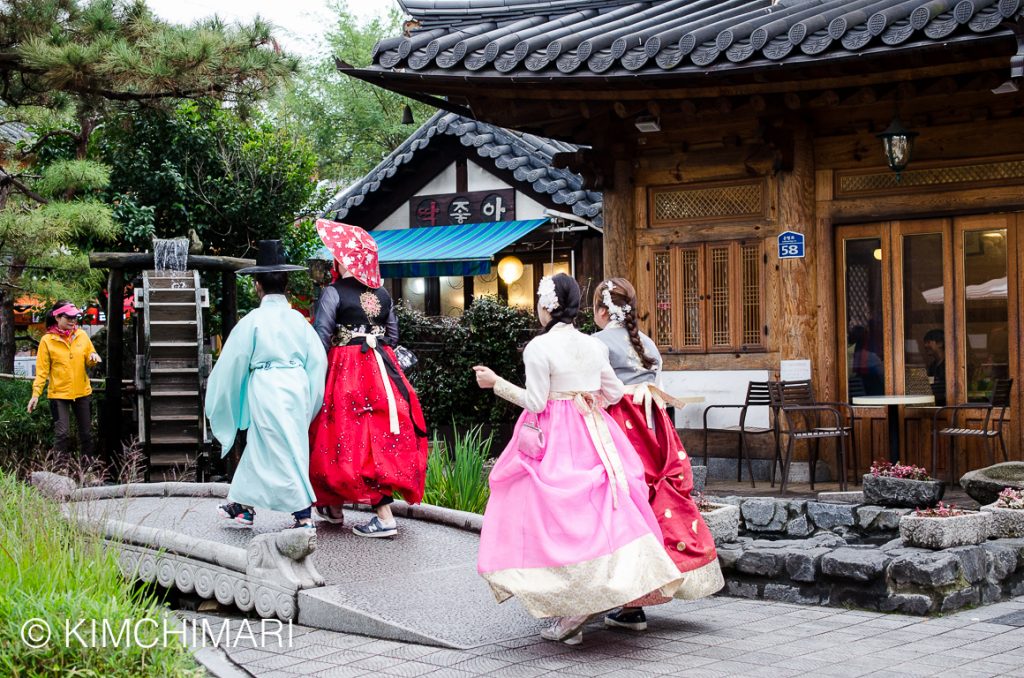 In the outer areas, there were homes with pretty gardens and this one with a beautiful wooden gate.
If you walk around Jeonju Hanok Village, you cannot avoid seeing PNB Bakery because they are kind of everywhere. PNB (Poongnyeon Bakery 풍년제과) is a family owned bakery that opened in 1951 in Jeonju. They had free samples of peanut cookies called Senbei which is actually Japanese..
We also walked on the outside boundary areas of the village and saw gorgeous open walkways near a local river.
I was trying to take pictures of the area and you will notice something in the next two photos –
Then, after some time (not immediately), I turned around to take photo of the other direction and..there SHE IS AGAIN!! HAHA!
Usually, I try to avoid taking pictures of people but somehow she kept coming into my view! And, I would not have included this in the post but I realized that there was something really endearing about this picture. The ajumma (older lady) or halmoni (grandma) that you see here; the way she dresses, the way she walks with her hands in the back, holding a black plastic bag (she probably grocery shopped), her loose, I dream of Jeannie style ajumma pants aka mombae baji (몸배바지) and the bold pink jacket is so very typical and a very common scene in Korea. And normally, I think nothing of it but seeing in a photo brought up emotions that I had never experienced before. BTW, her way of dressing is also referred to as "Ajumma Passion (i.e. Ajumma Fashion)" in Korea. 😜
These ajumma pants are the best for working in the farm or in the kitchen. And this is important – they ALWAYS, always have to have patterns, you will NEVER find a solid color ajumma pants anywhere!!! Perhaps I'm getting old, perhaps I have become a total foreigner, who knows… but I have become to appreciate the things that I used to think was almost embarrassing while I was living in Korea as a kid…This was the first time I got to appreciate the common everyday Korean ajumma who is always working hard to support her family in anyway they can.
A shop that featured wood works by an artisan who makes wooden combs. But here, he also made traditional Yut game pieces with wooden chestnuts.
This is a memorial stone protected by this structure. The carved stone was awarded by the King to Park Jin for being a good son (효자 孝子 Hyoja). Confucianism always emphasizes and teaches children to become good and loyal sons and daughters to their parents with this being one of the greatest virtue in the past.
Although I was too full from lunch to eat this but I was so happy to see my most favorite Korean ice cream shop Sobok (see my Bingsu post for pics) in Hanok Village. Their brown rice ice cream with mochi is really so uniquely Korean and so delicious!
DINNER was at a place called Songjeongone, located just outside of Hanok Village. I would have loved to say that we ended the day with great fabulous Korean food but honestly, it was a just a so-so place. We heard some good things about this place but I think the recent surge in tourism has changed it – not for the better I'm afraid. As we exited the restaurant, we saw a huge crowd of Chinese tourists mob the place. There were some good dishes but most were kind of disappointing. So I am not recommending this place and I am not going to say much except to say try some other places.
One place that I did really enjoy during my visit few years ago was a restaurant called Damun (다문 74-10, Eunhaeng-ro, Wansan-gu, Jeonju-si). Here's a Korean post that shows good food pics. Great food, great price and great traditional atmosphere. Definitely try there.
DESSERT was desperately needed to compensate for the OK dinner. Luckily we found PNB bakery on our way back and bought some ChocoPie which I did not have great expectations for but was pleasantly surprised. It was REALLY good. The chocolate coating was made from real good chocolate, the cake was soft and moist and then the cream filling just made it all work. Totally levels above the store bought kind. My niece also bought some Pikachu cookie which was cute. And of course, who can resist the classic Bingurae banana milk that we all grew up with.
Sorry for the terrible background. The hotel's desk color was a ghastly neon blue and I had to do something to cover it – which was my laptop bag.. sigh..
More posts on Jeonju
Well, hope you enjoyed my visit to Jeonju, Day 1. If you enjoyed this post, you might want to read the following posts –
Enjoy!!
XOXO,
JinJoo