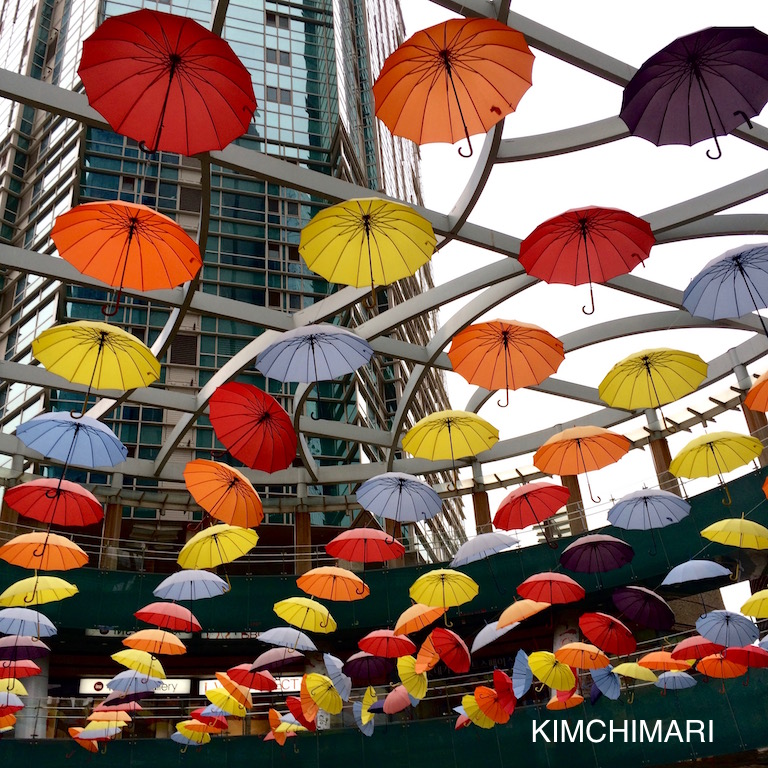 It was a cloudy, raining fall day when I visited the are near Hongik University with my best friend EJ. This beautiful umbrella art display caught my eye as we visited an outdoor shopping mall. Each umbrella danced to a different tune as the wind made it dance in the open air…
Now that winter is in full swing in Korea, Koreans are probably spending most of their time indoors. And that reminded me of my winters in college when I sometimes spent almost the whole day in cafés, chatting up a storm for hours with my friends. Mostly talking about boys, haha, of course..and how going to an all girls college was so hard..
Typically, we start at a café to have breakfast and coffee, then visit a place for lunch and then we go to another café for dessert and coffee again. And we can sit and blab all afternoon until the owner keeps staring at us trying to hint at us to leave which we mostly just ignored. 🙂
In this post, I wanted to share with you some fun theme cafes to visit in Seoul – in particular, in the area near and around Hongik University.
A little background about Hongik University – it is one of the top colleges to go to if you want to study Art or Architecture in Korea. But over the years, the University area has also become a really unique spot for art and fashion, including artsy cafés and foods. My guess is that it is because many starving art school graduates started opening up different places when they realized it is not easy to make a living purely as an artist.
During my recent 2 year stay in Korea, I heard a lot about the theme cafés in Seoul, especially in and around Hongik University. Even my daughter visited various cafés near Hongik University while she was in Seoul and told me we should go but somehow we never found the time.
So when I visited Seoul in November last year, I made sure I took a trip to the Hongik University area and visited as many places as I could and sampled as many different foods as I could. Luckily, my best friend from high school (EJ) grew up in the area so she offered to take me around.
Being together again with my best buddy from high school was as if time never passed – our usual harassing each other for fun just came back naturally. I made fun of her that she did not know where everything was and that she was needlessly dragging me around.. haha.. and she was, of course, complaining to me that I was taking too much time taking pictures of everything – especially of food!!
During lunch, she made a very common Korean comment
"Hey! I have NO idea if the food is going into my mouth or my EARS!!
야! 밥이 입으로 들어가는지 귀로 들어가는지 모르겠다!!" HAHAHA..
She was referring to the fact that I kept taking pictures of the food and stopping her from eating every time we got a new dish. I know.. you can't really enjoy a meal peacefully this way.. I sometimes worry that people will stop liking me because I take pictures of food all the time.
But anyway, for some reason this comment made me laugh so hard that my stomach started to hurt!
I'm not sure when was the last time I laughed so hard.. Thank you EJ for taking time out of your day to help me but most of all, for making me laugh.
So if you are ever in the area of Shinchon (신촌) or Sangsoo dong(상수동), you should DEFINITELY spend some time near and around Hongik University, because there are just endless fun things to do and eat and everyone is so friendly.
Well, here is the list of various themed cafés that we got to visit:
Sheep Café (Thanks Nature Café)– this café has live sheep that you can pet and even have a cup of coffee while you pet them. Honestly, I was not too happy to see sheep out of its natural environment but they didn't seem stressed. And I did learn that they rotate the sheep from a farm in Daekwanryong (대관령)and the owner seemed to be taking great care of the sheep. Mapogu Seogyo dong 486, Daewoo Prugio Apt shopping center, B1 #121
Dog Café (Bau House) – order a drink and you can sit and play with the many dogs in the café from toy size to huge huskies. It is a perfect way to get your dog fix. Overall, quiet and pleasant experience but there were few minutes when a new dog came into the café and total chaos started!! And the 20 some dogs all started barking!!!! It was chaos for a few minutes. Here is a picture of the dogs in action –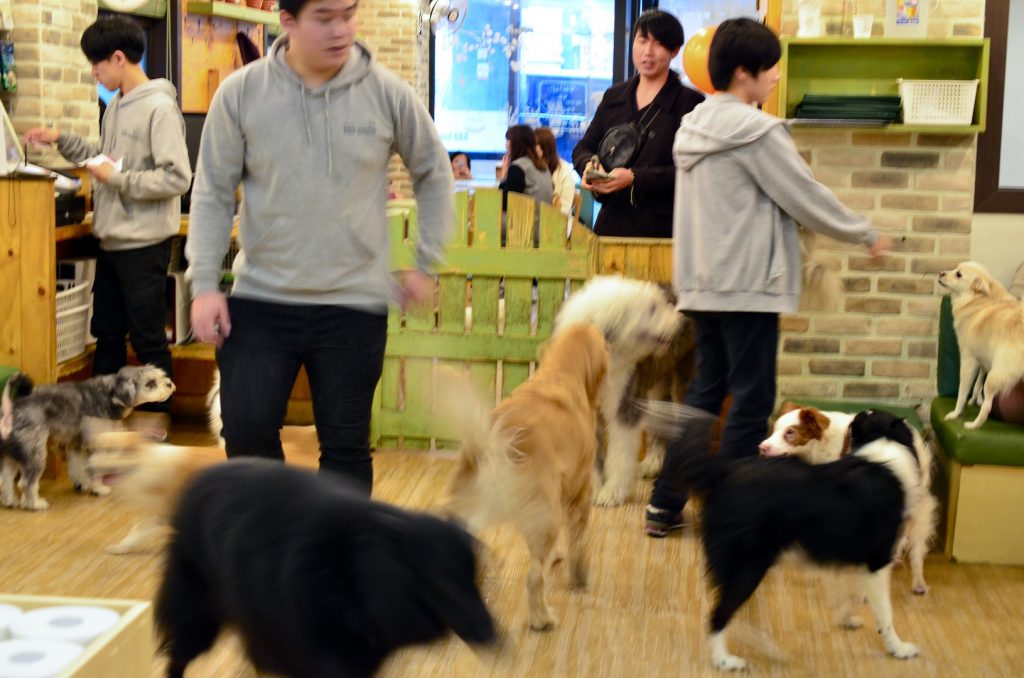 Thankfully, the owners were able to come down the dogs pretty quickly.
I realized that for many Korean young people, this is their only way to experience touching or hugging a pet as keeping a pet inside apartments in Seoul is not an easy task – especially when you are living on the 30th floor….
Cat Café (Cheongchun Cat Café)– definitely quieter atmosphere than the dog café, there is an entrance fee to enter the café and spend time with the kitties. As I was visiting, I saw couple of foreign guys come to the café. Good thing, their admission ticket vending machine has English explanations.

Cheongchun Cat Cafe near Hongik University, Seoul

Cats chilling at Cat cafe in Seoul

Travel café – café has all sorts of memorabilia from the owner's travels throughout the world. The café was closed on the day we visited.
Book Café (Café Comma) – a very open space with tall ceilings and with all walls filled with books all the way up to the ceiling. Perfect place if you love books.

Cafe comma – a book cafe at Hongik University area

Book cafe wall in Hongik University area, Seoul

Chocolate Café (Cacao Boom) – although not unique in terms of the theme but the chocolate is really so good so I had to mention it. There are chocolates based on Cacao% in addition to regular truffles and etc. They also offer classes that teach chocolate making.

Chocolates by Cacao percentages – 64 is my number 🙂

Good luck chocolate for students taking college entrance exams

합격 (Hapgyeok) means 'pass/admitted'.. to college, of course and 정답 (Jeongdap) means 'correct answer'… only in Korea.. And the price label says "the taste of admission"..haha..

aA Museum Cafe – probably the best representation of Hongik spirit, the cafe is part of a furniture design museum that displays the designs from artists from all over the world in different eras on each floor and also features young, up and coming artists with their design.

1st floor aA museum cafe, Seoul, Korea (photo – aadesignmuseum.com)

Furniture display at aA museum, near Hongik University, Seoul Korea (photo – aadesignmuseum.com)

There are others that I did not have time to visit – plant café, camping café, etc.
Well, hope you will get to visit these someday and if not I hope you enjoyed at least seeing the pictures!