Story of Korean Sweets – Yakwa and Yaksik
I have heard this story Korean sweets from my husband's oldest uncle when I first got married but I really did not realize the significance of it until now…you can find several different versions of this Korean sweets story on the Korean internet but here is the family's version.
Hopefully my daughter will be able to appreciate and pass on the tradition to her children some day.
During the early Joseon Dynasty, about 450 years ago, a young girl (we only know her as a daughter of Lee SeungJi since girls did not have a recorded name at that time) married into a family who's last name was Suh. Only after being married for a few years, she became widowed at a very young age of 21.
She had one son who was remarkably talented and intelligent. According to the family history, this son (who's name was Suh Seong 성서 徐渻 (1558 -1631)and was also nicknamed Yak-Bong 약봉(藥峯) was so smart that even the King heard the story of this boy wonder who had mastered the basics of reading and writing at a very young age of 6.
Yak-Bong was called to appear in front of the King. He was to be tested on his knowledge of Chinese characters which was the official written language during the Joseon Dynasty. The boy knew every character that he was asked and the King was so impressed that he told Sung to come to the King's palace in Seoul to study with the Kings' scholars. This boy later became a great scholar in the King's court and the Suh family became famous for producing many scholars and high officials throughout Joseon Dynasty for generations after that.
But what is just as amazing or perhaps even more amazing is the story of this boy's mother. Sung's mother (referred as 고성이씨 aka 'Lee from Goseong province' ) suffered a severe case of measles as a child and became blind. But her blindness did not stop her from anything. FYI, here's a news article that talks about this lady lee being one of the 4 iconic ladies of Andong who changed history.
And Suh Hae 서해 徐嶰 (1537~1559) married this blind lady Lee and they lived in this home as their son Seong was born. As Seong became so well known, this house called Sohoheon House, Andong , 安東 蘇湖軒 became Korea's national treasure #475 in the 60's. In this house, one of the rooms that are specifically marked as the room where Yakbong was born.
If you are curious, you can visit Andong City's official blog post HERE to read the story of this house, the lady Lee and her Yakgwa story. And here's another news post that talks about this whole story at length!
When she became a widow as the husband Suh Seong died at 23, she moved to Seoul with her son to find ways to provide for her son and his education. With no other means to support her family (girls were not educated at that time), she decided that she would make money by selling foods that she made at home. So, she created (yes, CREATED!) Yakwa and Yaksik (aka Yakbap) and sold to people. People loved these foods so much that even the King heard about them and wanted to get a taste of them!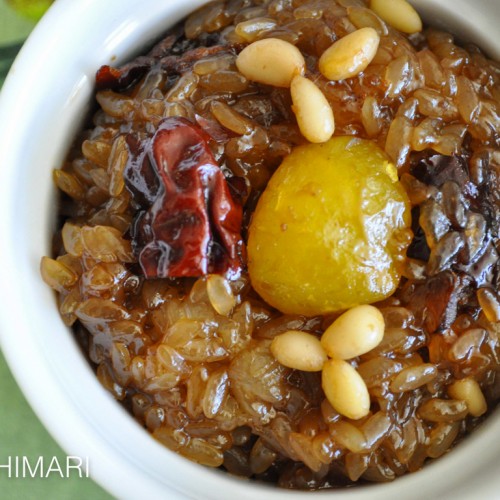 Yak-Sik or Yakshik was made with sweet rice, chestnut and dates which not only tasted great but was a great food to take along. It was the first time people had something that was portable but was also filling kept pretty well whether it was hot or cold.
BTW, I have a new Instant Pot Yaksik Recipe if you want to try it. It's much simpler and easy to make but with still the same great flavor!
Yakgwa on the other hand was more of a decadent dessert that people could buy to treat themselves.
And so it turns out, I married into this Suh family. The recipe that I learned from my mother-in-law for these Korean sweets are the recipes that she learned from my husband's aunt, passed down through generations.
Even though I have been married for many years, it is only now that I'm beginning to fully appreciate this precious heritage. How often can one trace back the origin of a recipe that is hundreds of years old? And to be somehow connected to this is quite remarkable and amazing.
10/03/2023 — Someone has raised doubts about my story here and as I said, it's a story that's been passed down in our family – I am not saying I have absolute proof but I have added links to Korean government and other sources here that I think should support how credible this story is. Believe it or not, it's up to you!
BTW, I have a new baked Yakwa recipe that doesn't invovle any deep frying!
So, I hope you try making some today!
XOXO ❤️
JinJoo