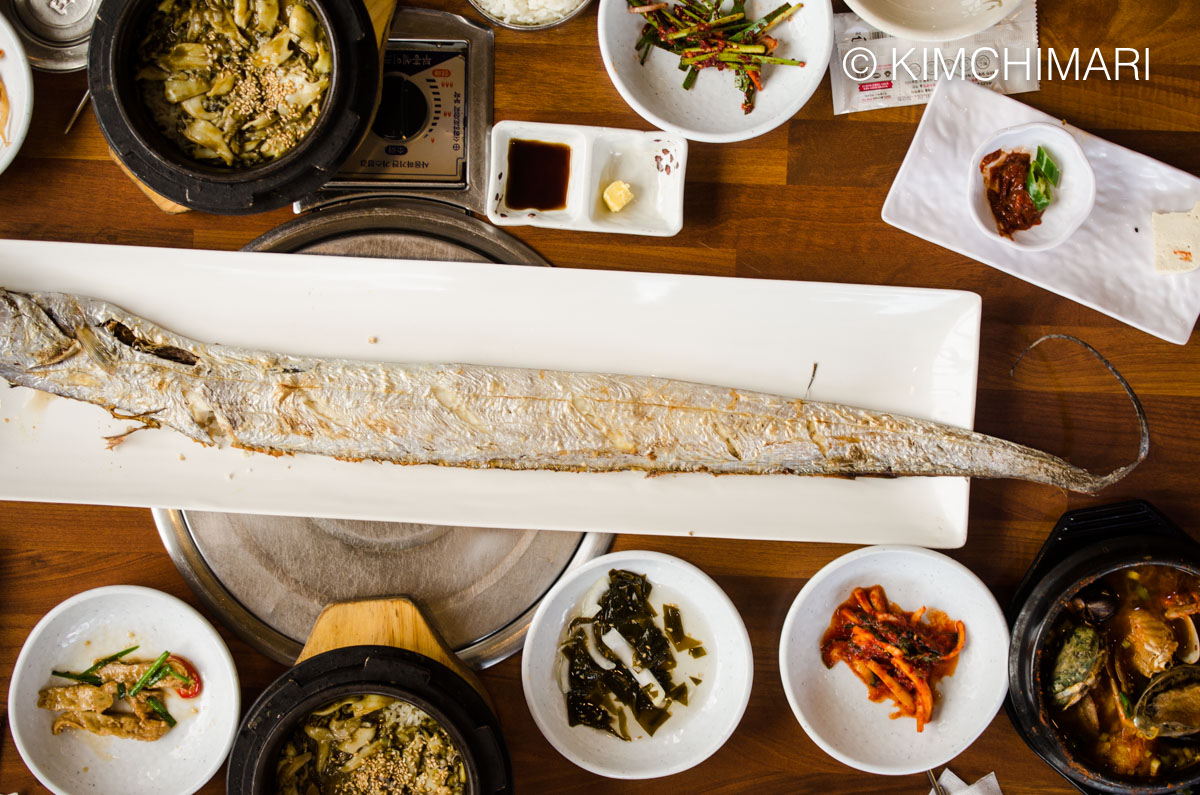 ** UPDATED in July, 2023 **
Jeju Island Restaurants 2017 – Best places to eat for Seafood, Black Pork and More
Jeju Island family trip 2017!!!
During our trip to Korea this summer, we decided to squeeze in a 4 day trip to Jeju Island. Jeju Do (제주도) has changed so much in recent years and I have been wanting to visit especially with our daughter as a family. We were also hoping that we could take our in-law family with us as part of my mother-in-law's 80th Birthday celebration but both she and my sister-in-law could not make it..so it was mostly just us three – except for the last day when our niece joined us!!
BTW, my niece Heyon who is an artist and art therapist – I LOVE what she does and she is also behind my beautiful pins that I share on pinterest. Thank you Heyon for your help always!!
Visit her Astropaperboat site for more beautiful art that you can even purchase!
I will be writing another post about 'things to do in Jeju Island' soon, so let's just get right into it. 
Best Jeju Restaurant for Seafood, Pork and More
Jeju Ohseong Galchi 오성 갈치 (Largehead Hairtail Fish) 제주 오성식당 – Hairtail fish and Abalone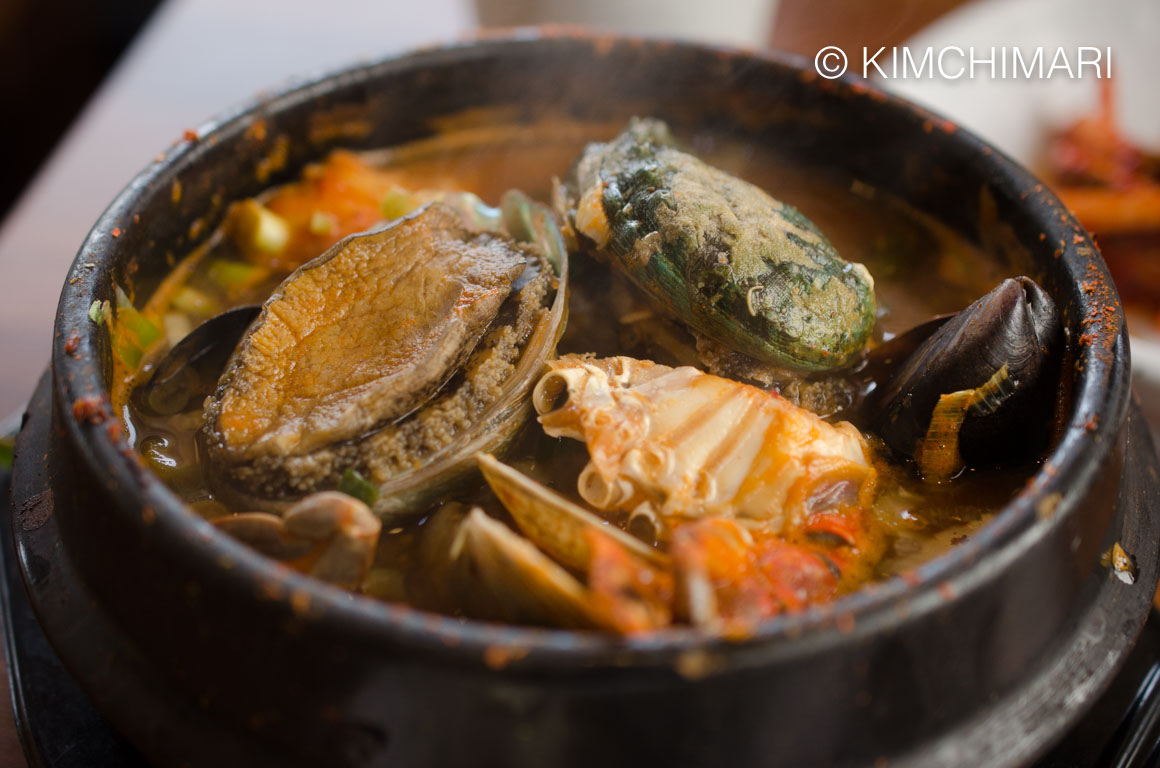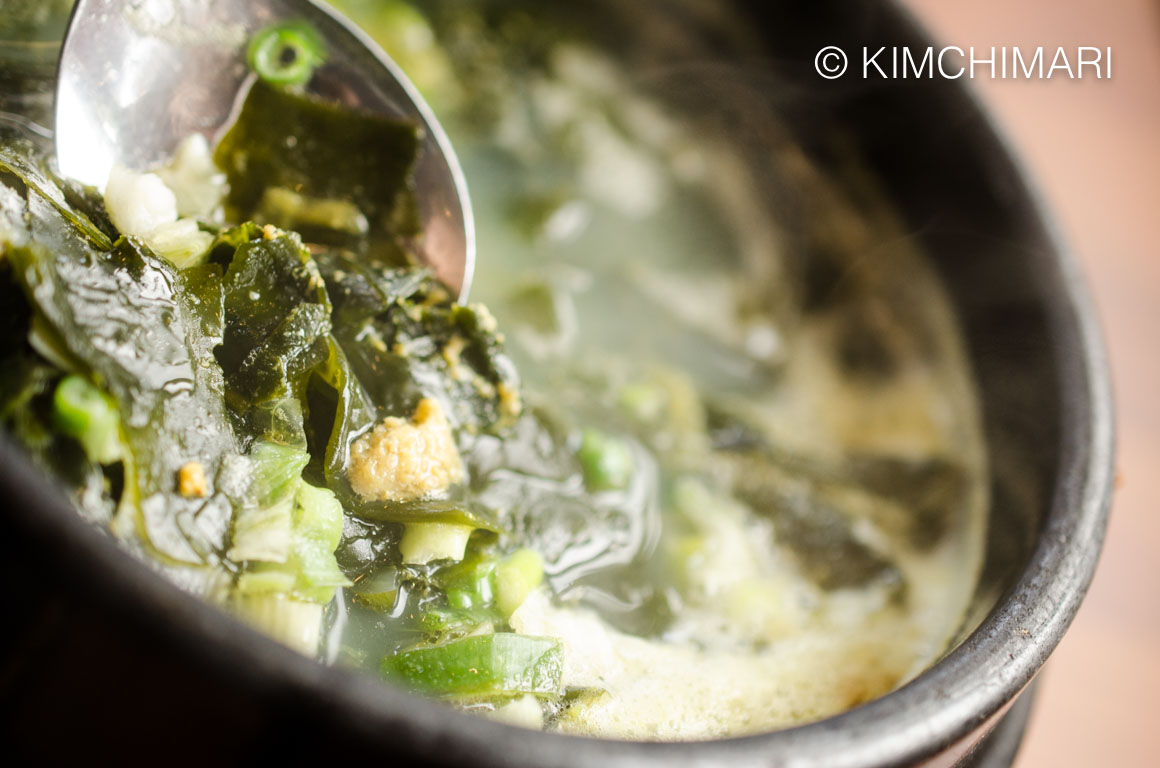 I think this was one of our most favorite restaurant during our trip. You can taste both Galchi 칼치 (Hairtail Fish, Cutlassfish or Beltfish) and abalone in the most wonderful way. They give you a WHOLE Hairtail fish either salted and broiled or braised in sauce! Hairtail fish is sooo long, it took up the whole table!!
In addition to the wonderfully fresh locally caught Hairtail fish that came perfectly salted and grilled, you also get a hot stone pot abalone rice 전복 돌솥밥, uni miyeok guk, seafood doenjang jjigae and other amazing banchans. I mean, EVERY single thing here is just really delicious. Korean food at its best. You should not miss this restaurant.
Address:
Jeju 5 star
 오성- 31 Jungmungwangwang-ro, Saekdal-dong, Seogwipo, Jeju-do
Black Ranch 꺼멍목장 (Kkeomeong Mokjang) – Black Pork and Okdom 옥돔 (Red Tile Fish)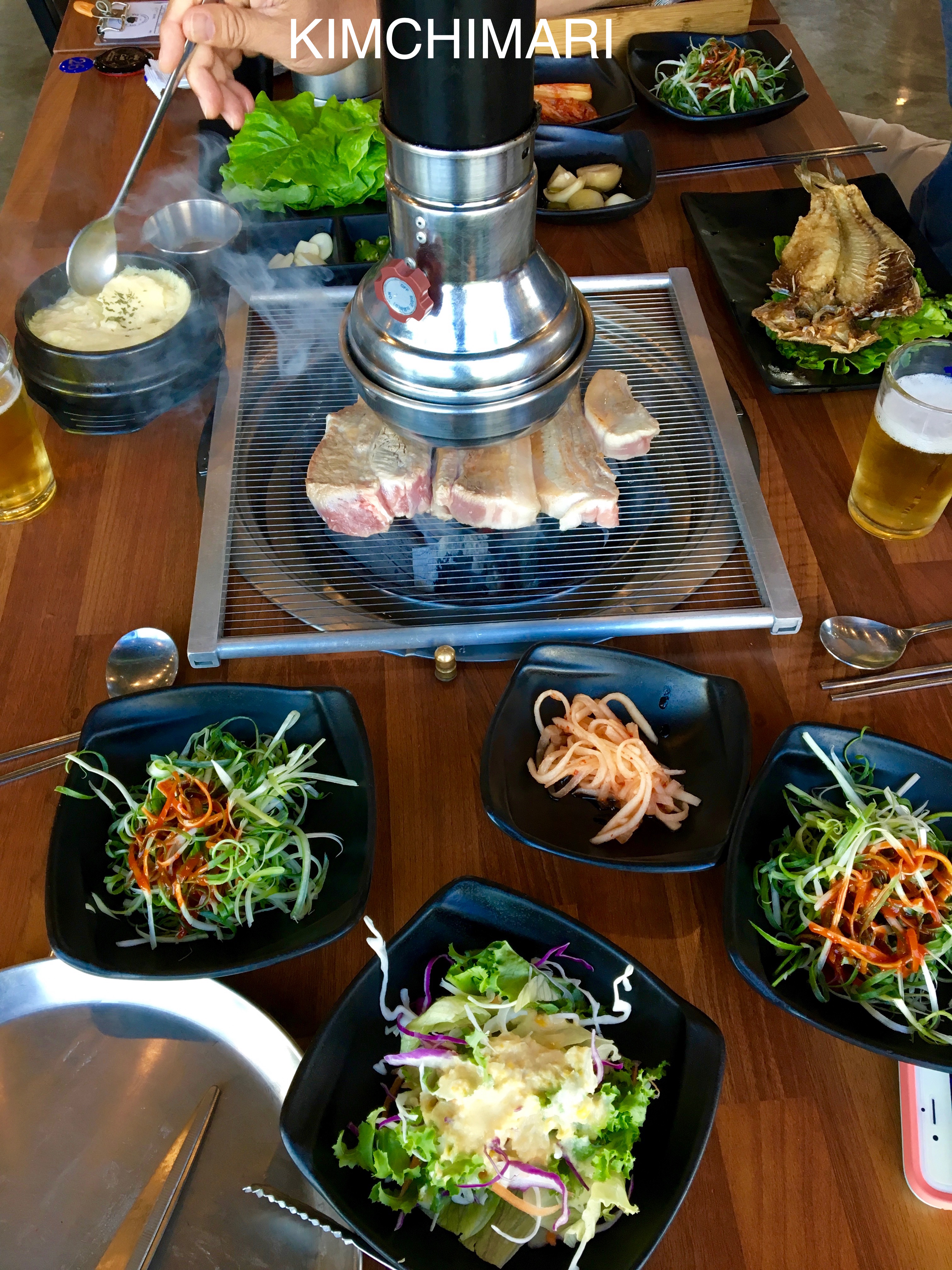 My husband wanted to have Okdom Gui 옥돔구이(Grilled Red Tile Fish) and my daughter and I wanted to have pork. By now you know my husband doesn't eat pork.. and I could not leave without trying Jeju pork. So we needed to find a restaurant that served both. And we did!!!
This is a relatively new/unknown place so it didn't even show up on our car's navigation. It's mainly a Jeju Black Pork BBQ place but they also had grilled red tile fish (Okdom Gui) on the menu. A modern-style building (definitely modern with a younger vibe) with self-serve banchan. All the side dishes were yummy and we got some great thick pork belly pieces. The food is all quite good and perhaps what's even better is that there's a direct view to the ocean from the restaurant!!
You can either watch the ocean while you eat from the table or grab a cup of vending machine coffee after you're done and sit outside and enjoy the view. Only thing for us was that there were lots of mosquitos and my poor daughter was getting bitten left and right because she was wearing shorts!! YIKES!
BTW, I didn't bring my camera with me so we took pictures with our phone and this is what happens when I ask my husband to take pictures…
Venite 베니떼 – Fabulous Italian food in Seogwipo, Jeju
** It's NOT clear if this restaurant is still open for business. They have no website, social media.. and the last review I saw on Korean internet is only 2020. **
What?? Italian in Jejudo??
YES!!  You may think this is an odd recommendation but I had to do it cause the food was pretty awesome. A very tiny restaurant with a bar seating only for 5 and then just 2 outdoor tables. Daily chef's special appetizer, salad, choice of pasta and steak prepared by the owner/chef himself. He told us that usually his girlfriend helps out but not that day so he was all by himself.
We enjoyed all the wonderful fresh seafood and pork but on day 3, all three of us were getting quite desperate for some non-Korean food option. Both my husband and daughter, yelled "ITALIAN!" when it was time to decide what we wanted for dinner.
I had my doubts about finding a good Italian restaurant in Jeju Island but this was a very surprising find. YAY for online search engines and blogs!!!
Of course, don't expect to taste the full traditional authentic Italian here – it is Italian with a Korean flair – but definitely one of the better ones. I think you can kinda tell the Chef really cares about his food when he is not afraid to turn guests away because he is not ready to serve them. He only wants to focus on making the best, freshly prepared dishes for you and you only. So be sure to either go early at opening time or call ahead and make reservations beforehand cause we saw him turn away a couple with a small baby even though there were 2 empty seats.
Everything was really delicious but the whole shrimp pasta was especially amazing – a must try. It is a perfect combination of creamy with little tiny jewels of flying fish roe popping inside your mouth, adding extra texture and nuttiness while the exquisite ocean flavors of the fresh shrimp head adding a deeper, richer flavor – much like the green tomalley flavor of lobsters or crabs.
Took a picture of their menu display which was written on an empty wine bottle in between other bottles.
Sogob-E  소곱에 – Seafood Ramen Shop
If you are in the mood for some spicy seafoody ramen 😜 😚then this IS where you need to go!
A hidden gem of a place with again just a few tables. It's basically a hip bunsik jip. Order Octopus Jjamppong Ramen 문어짬뽕라면 which will clear your sinuses right away and perhaps even your tummy..hahaha..!!
Their pajeon was perhaps one of the best I have tasted in a while, wonderfully crisp and full of ocean flavor. They don't skimp on ingredients. I love it when there's a lot of seafood in my pajeon. I loved how they had layers of crab meat become the crispy shell to the whole pajeon. That's all they have on the menu aside from Fried Rice 볶음밥 which is their child's menu. Side dishes are self-serve so get started on that. We went a bit early for lunch and because this is really popular place, the place filled up pretty quickly.
Fun place to go if you want something different. And this is near the beach area where there are some cute cafes, so you may want to check that out on my later post about that.
From Jeju official website –
LINK
Other Jeju Restaurants recommended by my sister #3
Besides the restaurants I mentioned above which we visited and liked, my sister #3 recommended several more restaurants to try but we never got to. She has ben visiting the island many times over the years for business and she knows a lot of great ones and I totally trust her taste so I am quite comfortable in recommending these to you even though I have not tried them myself. (UPDATED on June 2023 due to restaurants being closed)
 Well, that's all folks!
Till next time,…
XOXO ❤️
JinJoo