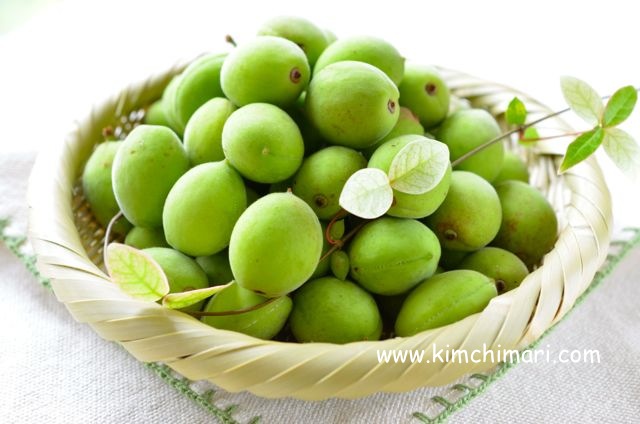 On my recent visit to our local Korean markets (Gyopo and Galleria), I saw to my pleasant surprise, that they were selling fresh Maesil (Japanese Green Plums or Ume)!! I don't know why but I was so happy to see those little beauties!!
And I was able to pass them by because I told myself that since I still had two bottles of maesil chung (매실청) left (which came from Korea last year via sea), I didn't need to make any new batch of Maesil Chung (Korean Green Plum Syrup or Extract). And I patted myself on the back as I left the store. But a long time friend came for dinner last weekend and she told me that she needed some maesil chung. Well, I say that's good timing, wouldn't you agree?? 😉
So I gave her a bottle and immediately I went to Gyopo market to buy 6 lbs of green plums and organic sugar to make my first batch of Maesil Chung in the US. I know many of you may not be able to get Maesil where you live and so initially, I was not going to post this but I stumbled upon an article that talked about green plums being sold at different markets in San Francisco.
And through them, you can order fresh Japanese Ume or green plums by phone from the Japanese market Mitsuwa (1-877-MITSUWA). Also, recently there are other Maesil farms that will ship them directly to you when ordered online so DM me on IG and I can send you the info. Anyway, that's why I decided I should let you all know just in case since you can't always get these green plums. These green apricot plums or maesil are available only for a short time in the spring.
The recipe for making Maesil Chung or Green Plum Syrup is here on my blog so I hope you can make some at home. I may not always include Maesil Chung in my recipes because I know many of you may not have access to them but I use it very often and it really makes a big difference in cooking. Also you can make hot or cold maesil cha (tea) which has great health benefits. Here are some health benefits of green plum syrup that Koreans talk about all the time:
The large amount of citric acid in the green plums help the body get rid of lactic acid therefore helping the body recover faster.
The acidic green plums or ume help with secretion of saliva and digestive enzymes aiding with digestion – this is why Koreans serve Maesil Cha at the end of a meal
The Maesil (Green Plum) Syrup's 100 day fermentation produces a lot of good bacteria and so these good guys kills off harmful bacteria to help with diarrhea and promote healthy and normal bowel function.
Well, hope you will get to make some at home!
take care,
JinJoo