This Gochujang Meatballs appetizer was a BIG HIT at our recent neighborhood party so I decided to share! And it's super easy to make!! I used FROZEN mini cocktail meatballs and it can be made in the Instant Pot or on stove-top. The sauce uses lots of garlic, ketchup, gochujang and maple syrup — soooo you know it's going to be GOOD!!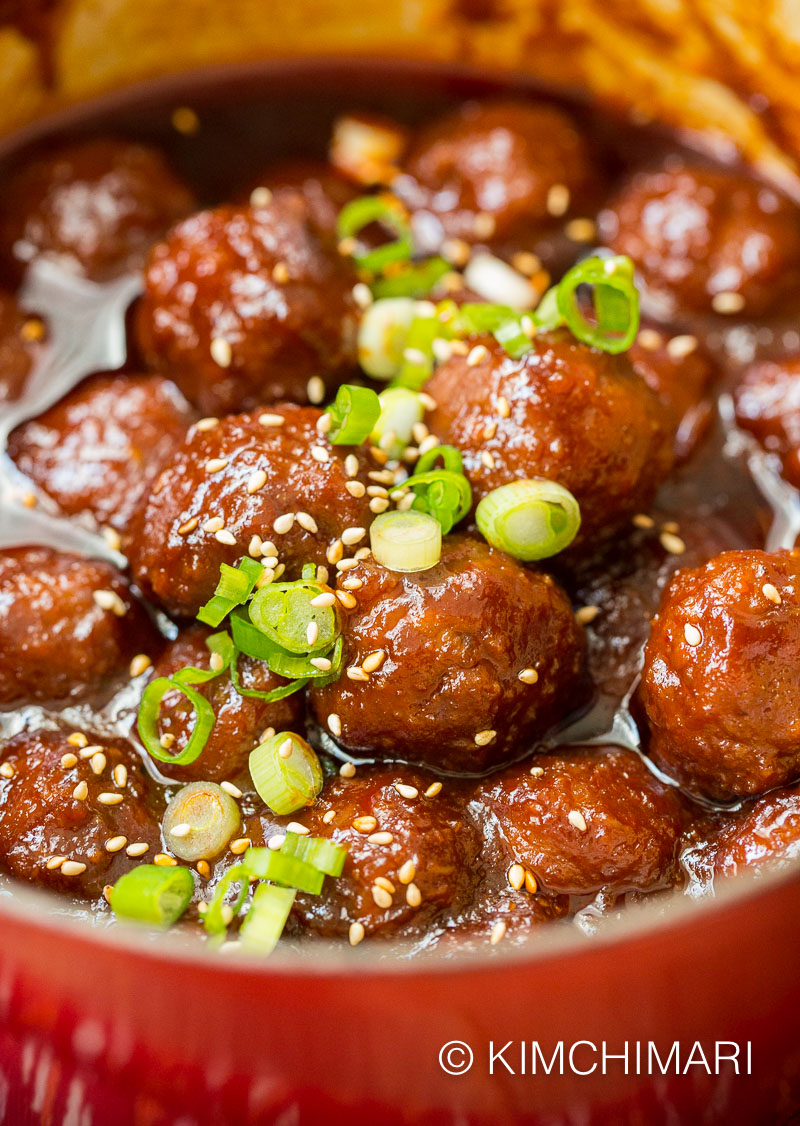 I recently came up with this Gochujang Meatballs appetizer idea when I was trying to make something for our neighborhood Halloween party. On Halloween night, my neighbors love to just sit out on the driveway around a fire pit and share food, drinks and chat while giving out candy to the kids – whenever they come by.
Sometimes we even chase after them – the ones who are too shy to come up to such a big crowd. HAHAHA..
I love being part of this group because it sure beats opening the door all evening, every time some kids come by which can get a bit tiring after a while. And kids also love it because they feel as one kid once said – "it's very efficient". 🤣😂 One-stop and they get about 10+ house visits worth of candies.
I even heard one boy say "Oh, wow, I hit the jackpot!! All the houses on this street are here??"
I was hoping to cook something good this year but I had too much going on that day and I knew I was not going to have enough time to make something. So.. I brainstormed and came up with this semi-home made idea of using my Sweet Gochuajng sauce with it. BTW, the sweet gochujang sauce was developed for a Korean Fried Chicken dish a couple of years ago for a restaurant.
Talking about Meatballs..
Did you ever realize how universal meatballs are? If you think about it, every cuisine has meatballs – they may be called differently but they are essentially the same. In Korean, it's called Wanja and we pan-fry them to make Wanjajeon. In Korean Chinese, we have one called NanjaWans which I just posted recently. I'm sure there are other Chinese dishes that use it.
I personally love Italian, Swedish ones and then Koftas which come from the Indian subcontinent. Here's a great Wiki article if you want to read more about it.
So I decided to buy frozen mini meatballs from Trader Joe's and use it to make my meatballs appetizer. Because their meatballs are really yummy. Now, if you want to make your own, you can make my Korean style meatballs from scratch. Just follow my recipe for Korean style meatballs with Sweet Soy glaze.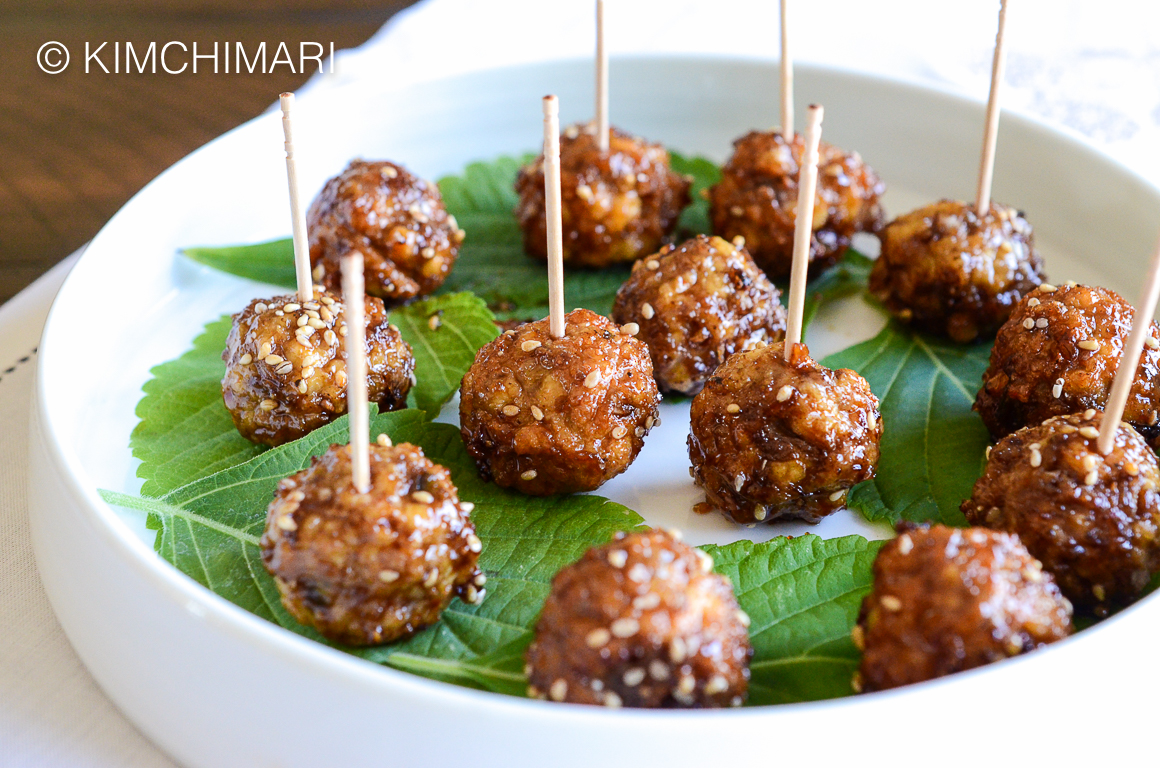 I use tofu and little bits of kimchi mixed in with ground pork and beef in that recipe so it's really different from most and has a wonderful Korean flavor.
Tips for perfect Gochujang Meatballs Appetizer
Make sure to simmer it sufficiently so the sauce doesn't reduce too quickly before it has a chance to flavor the meatballs
If you like SPICY, add little extra gochujang and/or hot sauce (like an extra 1~2 tsp)
Serve warm for best results – in a crockpot/slow cooker
COOKING TIMES

Instant Pot – 15 min SAUTE then SLOW COOK (HIGH) for 2 hrs
Crock Pot/Slow Cooker – SLOW COOK (HIGH) – 3 to 3 1/2 hrs
Stove Top – 30 min simmer

Serving Suggestions

Serve with a side of veggie sticks or bread to balance out the flavor
Instant Pot Slow Cook function vs a Slow Cooker/Crock Pot Slow Cook function:
Do you ever wonder why the slow cook function on your IP never works as well as regular slow cookers? It's because the temperature is a bit different. In general, your IP's Slow Cook temperature is lower than your regular slow cooker.
Each brand may be a bit different but based on my research, this is what I found. First, note that the official crockpot and Instant Pot site state that they measure the temperature differently.
While the Instant Pot try to maintain a certain temperature, Crockpot defines it in terms of how long it takes to reach a certain temperature. Crockpot defines 'low' as taking 7-8 hrs to reach a simmering temperature of 209°F and 'high' as taking 3-4 hrs to reach the same 209°F.
However, when I researched various sources, it seems the temperatures that the slow cooker reaches on HIGH gets to be much hotter (eventually) – up to 300°F.
Instant Pot Slow Cook (from IP site)

Low: 180 – 190°F, Normal: 190-200°F, More: 200-210°F

Slow Cooker like Crockpot

Low: 190-200°F, High: 225 – 275°F even up to 300°F
So this is why people have trouble with the slow cook function in the IP if they try to just straightforwardly use a slow cooker recipe. Anyway, hope that was helpful. Now back to my recipe!
Step-by-Step Instructions
This Gochujang Meatballs Appetizer recipe is so simple and easy, it almost needs no instructions but here it is -😝
Ingredient Notes
I used Trader Joe's Frozen Mini Cocktail Meatballs but you can use any frozen meatballs or use my Korean cocktail meatballs recipe above 👆
Maple Syrup – I use 100% maple syrup from Costco
Sugar – I add only 1 tsp, you can omit this if you want and use more honey instead
Gochujang – I make my own (see How to make Gochujang at home) but you can also buy them from Asian grocery stores or online on my Amazon store.
Let's get started!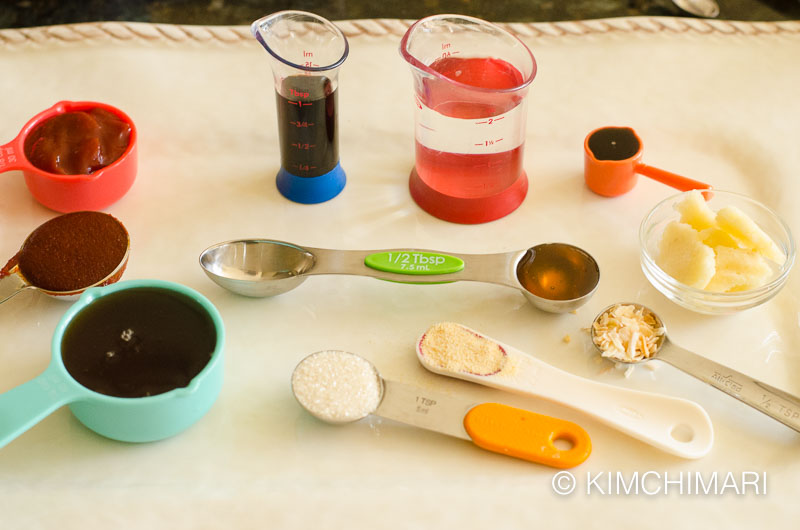 Make sauce – add and mix all sauce ingredients.
Choose the cooking method of your choice (instant pot/stove top/slow cooker). If cooking on stovetop, you will need to cook the sauce first a little bit and then add the meatballs. For IP and slow cooker, just add sauce and FROZEN meatballs, stir to make sure meatballs are covered and then cook according to each method. See recipe card below.
This is how it looks when it's done cooking in the Instant Pot/Slow Cook – after 2 hrs.
And here's how it comes out in the stovetop after 30 min. They both look good no?? And they taste good too~ 😍😋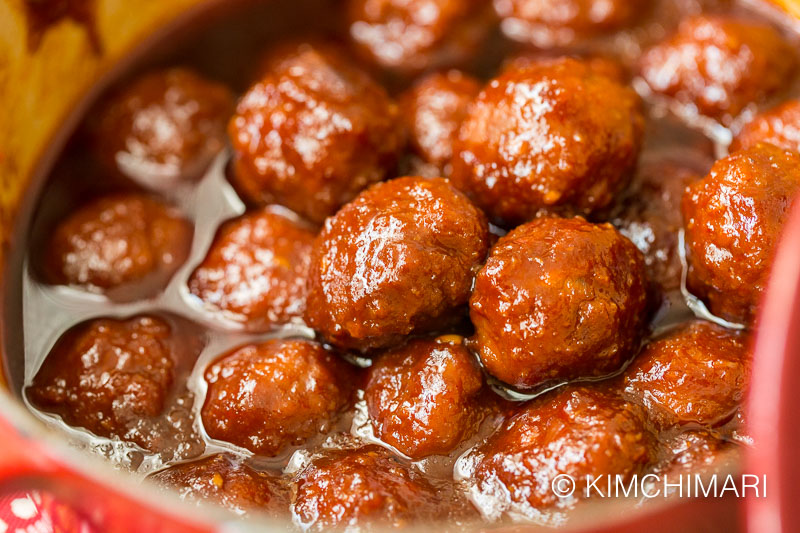 Sprinkle some chopped green onions and sesame seeds for that extra freshness and nuttiness – but not necessary.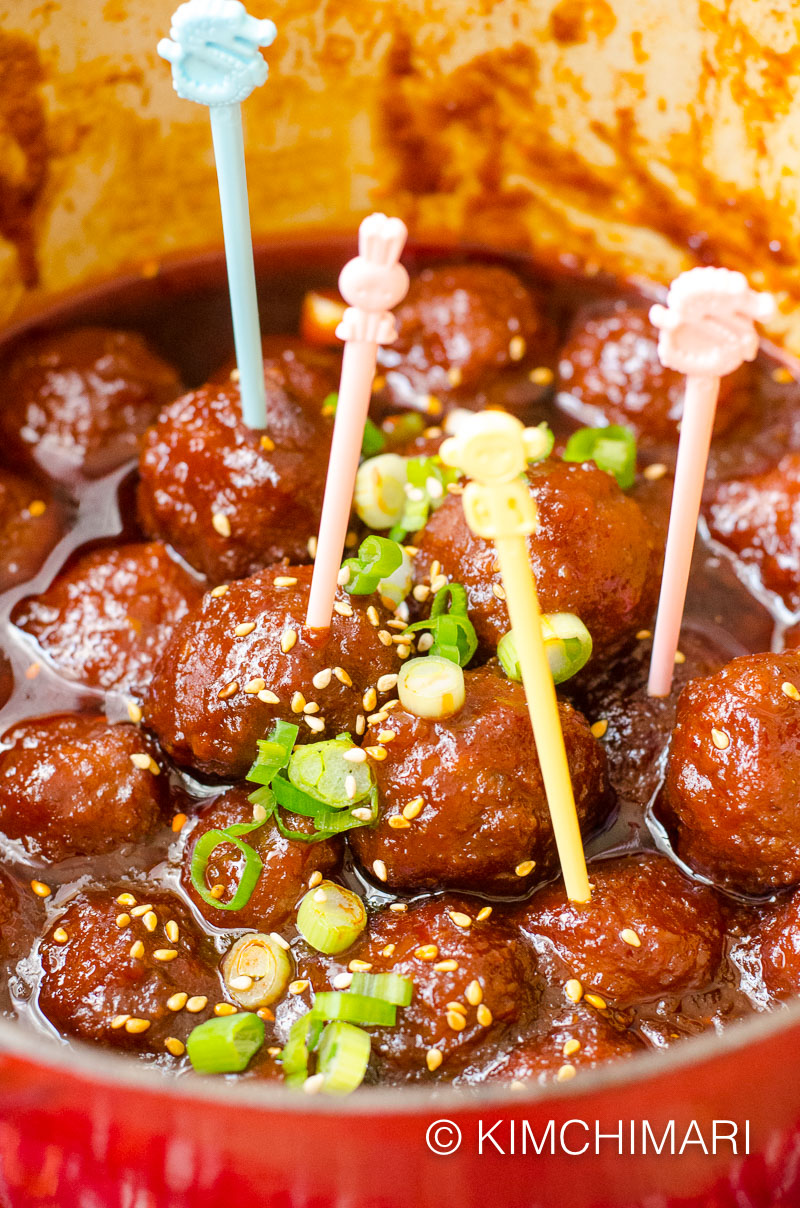 If you liked this recipe, please leave me a comment and 5 ☆☆☆☆☆ rating below!
Oh and try my Korean Fried Chicken with this Gochujang sauce recipe instead of the soy glaze for even a greater punch of flavor!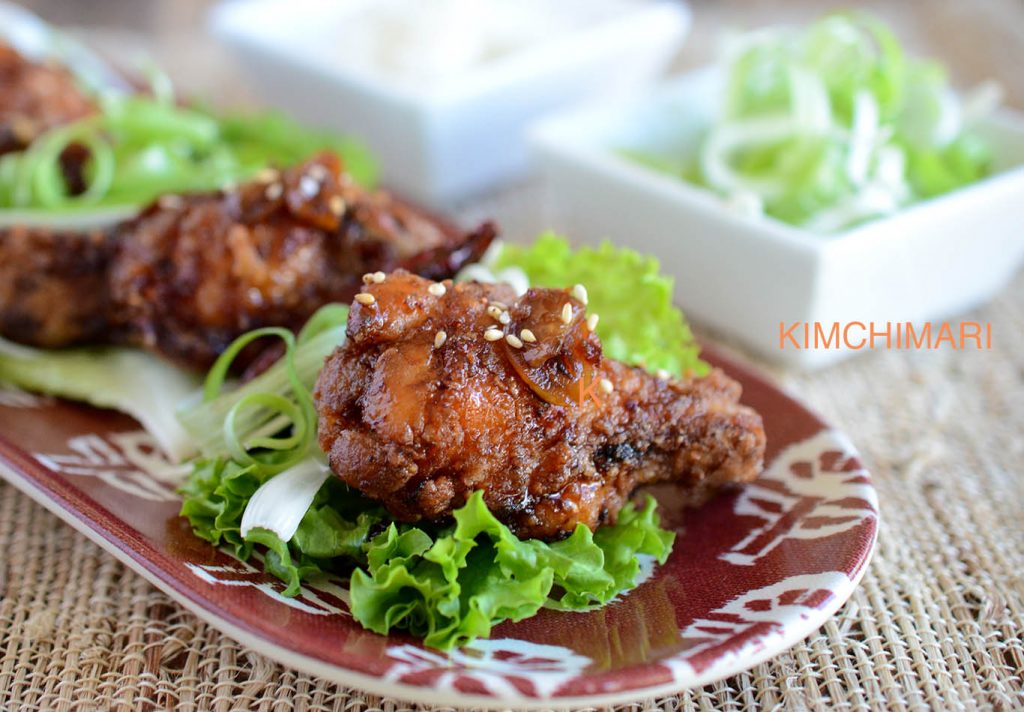 FOLLOW ME on INSTAGRAM or join my FACEBOOK GROUP to ask and share everything about Korean food with others just like you! ❤️
Take care ❤️
JinJoo
Gochujang Meatballs Appetizer – Instant Pot & Stove Top
Easy Meatballs appetizer recipe with Gochujang ketchup and garlic sauce. In the Instant Pot or on Stove Top. Use Trader Joe's frozen meatballs to make like super easy and simple!
Prep: 5 minutes
Cook: 30 minutes
Total Time: 35 minutes
serves: 6 people
Ingredients
1 bag meatballs (frozen) (20 oz Trader Joe's frozen mini meat balls)
sauce
Instructions
In a bowl, add all the sauce ingredients and mix.
Stove Top
In a thick bottom pot, add the sauce and cook on medium heat for few minutes until it starts to bubble.

To the pot with sauce, add all a bag of frozen meatballs. Turn the meatballs to make sure everyone is covered by the sauce. Turn heat to medium-low and then to low once it starts to bubble. Simmer for 30 minutes. Turn over meatballs 2-3 times during.
Instant Pot
In the instant pot, add the frozen meatballs then cover with sauce. Stir until meatballs are evenly coated. Cover with a glass lid (no pressure cooking needed) and select SAUTE function and press adjust to select LESS heat. Let it simmer for 15 minutes then turn off. Select SLOW COOK function and choose MORE temperature then cook for 2 hrs. Switch to WARM setting to serve.
Slow Cooker (Crockpot)
If using a slow cooker, you can simply add the meatballs and sauce and cook. First, stir until meatballs are evenly coated. Heat 2-3 hours on HIGH, stirring after 1 hour. Switch slow cooker to warm setting to serve.
Equipment
pressure cooker

pot (for stove top)
Tips & Notes:
The reason why I don't just do simple SLOW COOK in the IP is because Instant Pot's Slow Cook temperature is lower than a regular slow cooker and these meatballs are frozen so I just want it to get a head start.
To serve warm, use the WARM function on both the IP and the slow cooker. For stove top, use a heavy pot and it should stay warmer  a bit longer.
Nutrition Information:
Calories: 368kcal (18%)| Carbohydrates: 17g (6%)| Protein: 20g (40%)| Fat: 24g (37%)| Saturated Fat: 9g (56%)| Cholesterol: 82mg (27%)| Sodium: 381mg (17%)| Potassium: 406mg (12%)| Fiber: 1g (4%)| Sugar: 14g (16%)| Vitamin A: 11IU| Vitamin C: 3mg (4%)| Calcium: 38mg (4%)| Iron: 1mg (6%)