What is Crown Daisy ?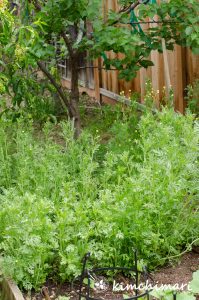 Chrysanthemum greens are the leafy part of a flowering plant that is in the daisy family. They are native to Asia and the Mediterranean, although they are commonly cultivated in East Asia, and parts of North America.
It is used in Korean cuisine as a leaf vegetable, and can be purchased fresh and in bundles. They are most often used as an important garnish for spicy fish and crab stew, but it can also be used fresh, or cooked in other stews and seasoned jellies.
Not To Be Confused With
Minari (Water dropwort)
Where and What To Buy
You can find crown daisies in Korean or Asian supermarkets. 
How to Clean/Store
To prep, wash the crown daisy quickly and gently in cool water, before gently shaking dry.
If you plan to use the daisies soon, they can be stored unwashed in a breathable bag in the drier drawer.
To keep crown daisies for a longer period of time:
Cut the plant into reasonable sizes, before blanching it for 2 minutes.
After that, let the plant drain and cool down to room temperature.
You can then freeze it to ensure the stalks remain their freshest. 
Nutrition/Health Info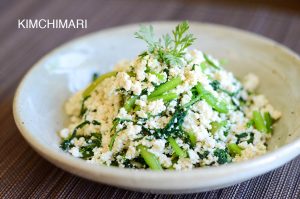 Crown daisy contains chlorogenic acid, which has been shown to slow the release of glucose into the bloodstream after eating. That means it can help aid in weight management.
They are rich in vitamins minerals and antioxidants, making it an excellent vegetable to help strengthen the immune system.
Crown daisy is high in potassium, and a serving has more potassium than a banana when consumed raw. A potassium-rich diet will provide protection against hypertension, bone density loss, stroke, and bloating, to name a few.
The dietary fibers in crown daisy helps relieve constipation, and promote weight loss. 
Recipes that use it:
References:
https://en.wikipedia.org/wiki/Glebionis_coronaria
https://www.healwithfood.org/health-benefits/garland-chrysanthemum-leaves.php
https://www.diversivore.com/ingredient-pages/garland-chrysanthemum/