What is Korean Leek ?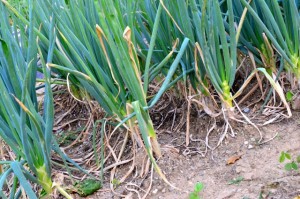 Korean leeks have the appearance of a large-sized green onion with stalks thicker than 1/2 inch in diameter, and are often used in soups and stews.
Because they have a sweeter taste than typical green onions, the white part of the leek is often used as an aromatic for broths, while the green part is used in the stew and as a garnish.
They are also occasionally used as garnish for other things like fried chicken and meat skewers.
Where and What To Buy
You can find Korean leeks in Korean and Asian grocery stores, and some specialty grocery stores, if you're lucky.
How to Clean/Store
Leeks become bitter when frozen, so it is best to keep them wrapped in plastic when putting them in the fridge. When stored properly, they'll last around 1-2 weeks.
To prepare them for use, rinse the vegetable thoroughly in running water to remove all the dirt from in between the stalks.
Nutrition/Health Info
Korean leeks are an excellent source of vitamin K, C, and A, as well as minerals. It also contains antioxidants such as flavonoids, allium, quercetin, and allyl propyl disulphide. 
Allicin and allyl sulfides in the leeks help protect arteries from clogging up. 
Recipes that use it:
References:
https://globalfoodbook.com/26-peculiar-benefits-of-scallion-spring-onion
https://en.wikipedia.org/wiki/Allium_fistulosum#Korea