Last year's Christmas really did not feel like Christmas at all. There was no tree, no cards (Koreans really don't send cards to each other anymore and maybe because we don't have a lot of friends?), no Christmas parties to go to (I so miss our old CA friends.) and no daughter (she was traveling with her friends in Europe). It really made last year's holidays pretty quiet, uneventful and almost depressing 🙁
This year, however, I am happy to report that I hosted a Christmas party for my college alumni friends in my new cooking studio!!! What?? A cooking studio?? Yes, you heard it right folks! My sister and I will be opening a cooking studio in Itaewon called Studio Mari Seoul!
Moving to Korea was pretty hard and I still miss California very much but things are finally happening for me here. Thanks to my sister #3's generosity, my dream #2 (#1 was farming) of having my own cooking studio has become a reality much much sooner than I thought it would. It all happened when my sister recently built a 3 story home in Itaewon. She originally planned to just rent out the 1st floor but one day we decided to use the space to pursue our dreams as partners. My dream was to teach Korean cooking in English to foreigners. My sister's dream was to sell her own line of tableware and home decor items for the home having a modern and updated version of traditional Korean designs. Our current plan is to open the studio in February 2014 so stay tuned! I will soon post more details about my cooking classes once I have them all designed.
Now, back to my party. When my college friends had our Christmas get together at a restaurant last year, we almost got kicked out because we were too loud. 🙂 So this year, the group was looking to have the party somewhere more private. And so I offered to have the Christmas party in my future studio. The entire process involved lot more work than I initially estimated. Mainly because I had to furnish the studio with everything from furniture to spoons. And then I still had to come up with the menu, prepare dinner and decorate! yikes!
Anyway, here is the result. The picture below is the Christmas party centerpiece made from 3 candles, bokchoy leaves, red chicory leaves (Rossa Italiana), pine tree leaves, pines and red berries.
The red chicory leaves are a popular Ssam vegetable in Korea and it had the perfect red stem in the middle. The leaves are a little bit wilted in the picture because I took the photo next morning but everyone loved it at the party!
MENU
I wanted to offer something different than Pizza/Pasta for our Christmas dinner. So we made –
Paella: Korea has such an abundance of seafood, so Paella was a great dish to prepare both in terms of ease and color. The only seafood we used that's not local is the lobster and you can certainly substitute crabs instead! Since Korean rice is a bit too sticky for Paella, I mixed 3 part Korean short grain rice to 2 part Jasmine long grain rice.
Beef Kababs: I bought Korean Blade Steak (부채살 Buchaesal) from Costco and cut into cubes but was careful to remove all connective tissue (gristle) that is in the center of each buchaesal steak piece. Cause the gristle part can be quite tough. My friends thought they were so tender and asked me what the cut was. They were quite surprised when I told them it was relatively this inexpensive cut.
Greek Salad with Tzatzki Dressing: Unfortunately, I have no picture. I do have one tip though for those of you living in Korea who are interested in using plain unsweet yogurt for cooking – it's hard to find plain, unsweetened yogurt here. So far, the only one I have found is Denmark Plain Yogurt. This is surely the best yogurt to use for the Tzatzki dressing.
Last but not least, we finished off the dinner with a home-made lemon cheesecake tart and pear + apple compote, topped with whipped cream. The tart is a creation by my niece who is a natural born baker. I usually don't like cheesecakes because they are so thick and heavy but this one was light but yet just creamy enough to feel indulgent.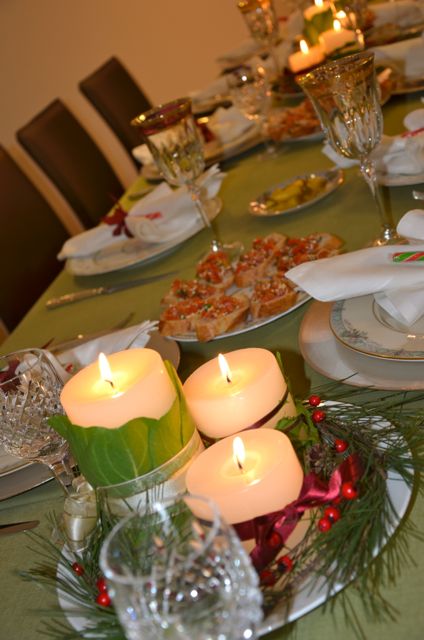 Sharing good food and good times with family and friends is part of what makes holidays special. I have been truly blessed in that sense and more.. I truly hope all your holidays will be special, warm and just as blessed as mine. Hoping to share many more recipes and stories about Korean food in the coming new year, Happy Holidays my friends!
PS. Kalbi jjim 갈비찜 (Korean short rib stew) is coming next, so stay tuned!