CONGRATULATIONS!!  Liamoana Quitano – you won the giveaway!! You will be contacted by email.
Thank you, everyone, who participated. I read each and every comment and want to THANK YOU all, esp. those who have kindly shared encouraging words and shared my recipes with your friends and family. You really all are all too kind. ❤️❤️
FYI, I will have one last giveaway with this grill pan on Instagram @kimchimari at some time later this year (2019) so please stay tuned.
And if you want to buy it – you can buy a similar pan from my Amazon shop HERE. Thank you – this is an affiliate link.
Korean BBQ Grill Pan Giveaway! This is my favorite BBQ Grill Pan to grill pork belly, bulgogi, veggies and more. Enter below for a chance to win!!
If you have seen my Samgyeopsal (Pork Belly) post (esp. video), you probably have seen me use this grill pan. My family uses this all the time whenever we want to do some Korean BBQ on the table.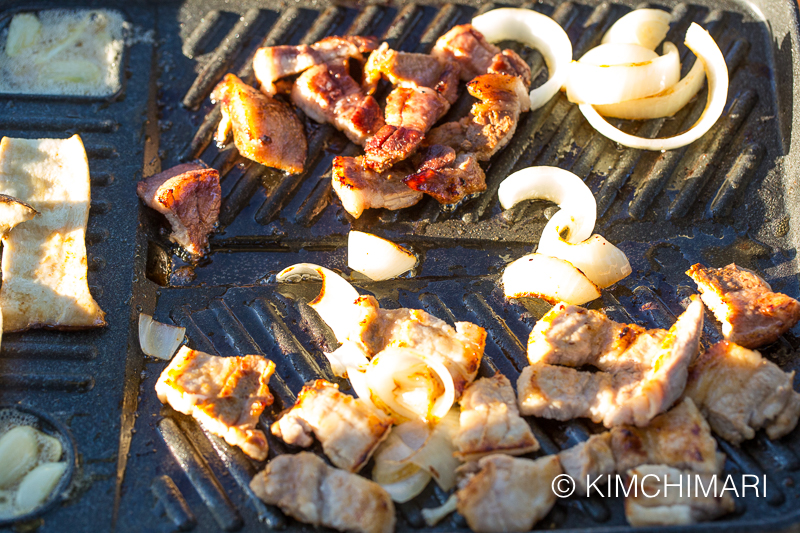 You have probably seen round ones before (which I also sell on my Amazon store) but I love this one because of the following reasons –
easier to divide the grilling surface, my husband doesn't eat pork but my daughter and I love pork so we usually grill pork on one side and beef on the other. And the fat drains through the center
love the little deep pockets at the end. We love to grill garlic in sesame oil and usually, we have to make a little bowl with tin foil but with these little pockets, we can grill them right in there
You can find out more about how to cook your own BBQ at home from my Korean BBQ Dinner cookbook. You can  get it for FREE by subscribing to my blog HERE (if you haven't already).
Anyway, I recently found these at my local market and grabbed them so I can share it with you!!
NOTE – After I bought the box, I found that it has a  tiny little Prop 65 California warning sticker tag. So please know this before you use the grill. I almost didn't do this giveaway because I found this out after I bought it…😭😭 but I discussed this with my Facebook group and the majority opinion was that I should still give it away.😍
So good luck to everyone! Thank you!
GIVEAWAY RULES
WHO CAN ENTER: 18 years and older,  who is a SUBSCRIBER of my KIMCHIMARI BLOG VIA EMAIL – US RESIDENTS ONLY.   NOTE – your email address for your comment must match to my subscription list. This is the only way I can verify you are following my blog.
HOW TO ENTER:

REQUIRED – You have to be subscribed to my blog (note, you also get a free Korean BBQ Dinner cookbook when you sign up for my newsletters).
MY WISH –  I hope you share my blog, my recipe on your social media or just by word of mouth, with someone you know if you appreciate my work. It means a lot to me. I can't and I won't check it. I  just trust that you would do that for me..❤️ because you are all the BEST followers!
REQUIRED – LEAVE A COMMENT BELOW ⬇️ with your email address and what or how you shared about my blog with your friend or family (if you did).
HOW WINNERS ARE PICKED: Random.org or something similar will be used to pick two winners randomly. Winner must respond within 36 hrs to claim the prize.
PRIZE VALUE: $30.00
STARTS: Oct 4th Friday,  ENDS: Oct 9th Wednesday Midnight, Pacific Standard Time (PST), USA
ANNOUNCEMENT OF WINNERS: ONE winner will be picked and announced via the blog on Oct 14th, 2019. Winner must respond within 36 hrs.
DELIVERY: Items will be shipped to your address.